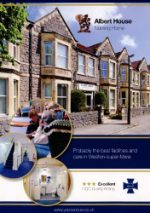 A little out-of-date - we're working on a new one!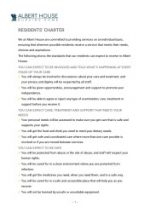 A statement of the standards that our residents can expect to receive in Albert House.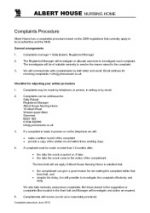 Guidance on the procedure we will follow if you need to make a complaint.
Care Connect
These are the contact details for North Somerset's care connect service, who deal with enquiries relating to adults and disabled people. Care Connect service is available Monday to Friday, 8am to 6pm.In an emergency outside their usual working hours contact the  emergency duty team on 01454 615 165.
Who to contact
Telephone

01275 888 801 – Adults
01275 888 805 – Minicom

E-mail
Where to go
Address

Town Hall
Walliscote Grove Road
Weston-super-mare
BS23 1UJ
Care Quality Commission (CQC)
Monitors, inspects and regulates health and social care services. CQC publish what they find, including ratings to help people choose care.
Citygate, Gallowgate, Newcastle upon Tyne NE1 4PA
Tel: 03000 616161
Social Care email: email hidden; JavaScript is required
Website: www.cqc.org.uk
Our report: http://www.cqc.org.uk/location/1-117002610
North Somerset Council, Social Services Department
Consumer Services Manager
14 Fenswood Road, Long Ashton, Bristol BS41 9BS
Tel: 01275 882171
Age UK Advice Line
Age UK is the country's largest charity dedicated to helping everyone make the most of later life.
If you need advice or information on money, care or health, call 0800 678 1602.
Free to call 8am – 7pm 365 days a year
Albert House Nursing Home was started about 50 years ago as a Children's Home in the end house of a Victorian terrace of five in a quiet side street of Weston-super-Mare near to the main town centre, the seafront, two Parks and just round the corner from two small streets of shops known locally as Whitecross Village. Weston developed in the late 1800's on the sand dunes flanking the miles of marvellous beaches of North Somerset as a weekend holiday area for the affluent residents of Bristol, which is about 25 miles to our north just over the Mendip Hills.
Right from the beginning, the Home has been family owned and the current owners acquired it in 1995. By this time the Home had grown to having 20 bedrooms which were all singles and all had hand basins but only 3 had en-suite toilets and none had their own showers. Also it was thought it would be nicer if bedrooms could be made a bit larger and if possible beds moved from the walls and more room made available for wheelchairs and hoists.
The expansion to 38-beds cost nearly £2 million and involved a total renovation and purchase of new equipment and technology. It was decided that the underlying design criteria should be "light and space" so that our Residents would not feel they were cooped up indoors. It was realised we could preserve  the beautifully-proportioned Victorian Bath stone front facade with its generous bay windows if we moved the interior walls to give new room layouts and wider corridors.  Also we made an eco-friendly green roof  and have lots of Velux skylights to keep areas pleasantly cool and bright. We are proud of our 38-bed nursing home and hope you enjoy it and that it feels like your home.